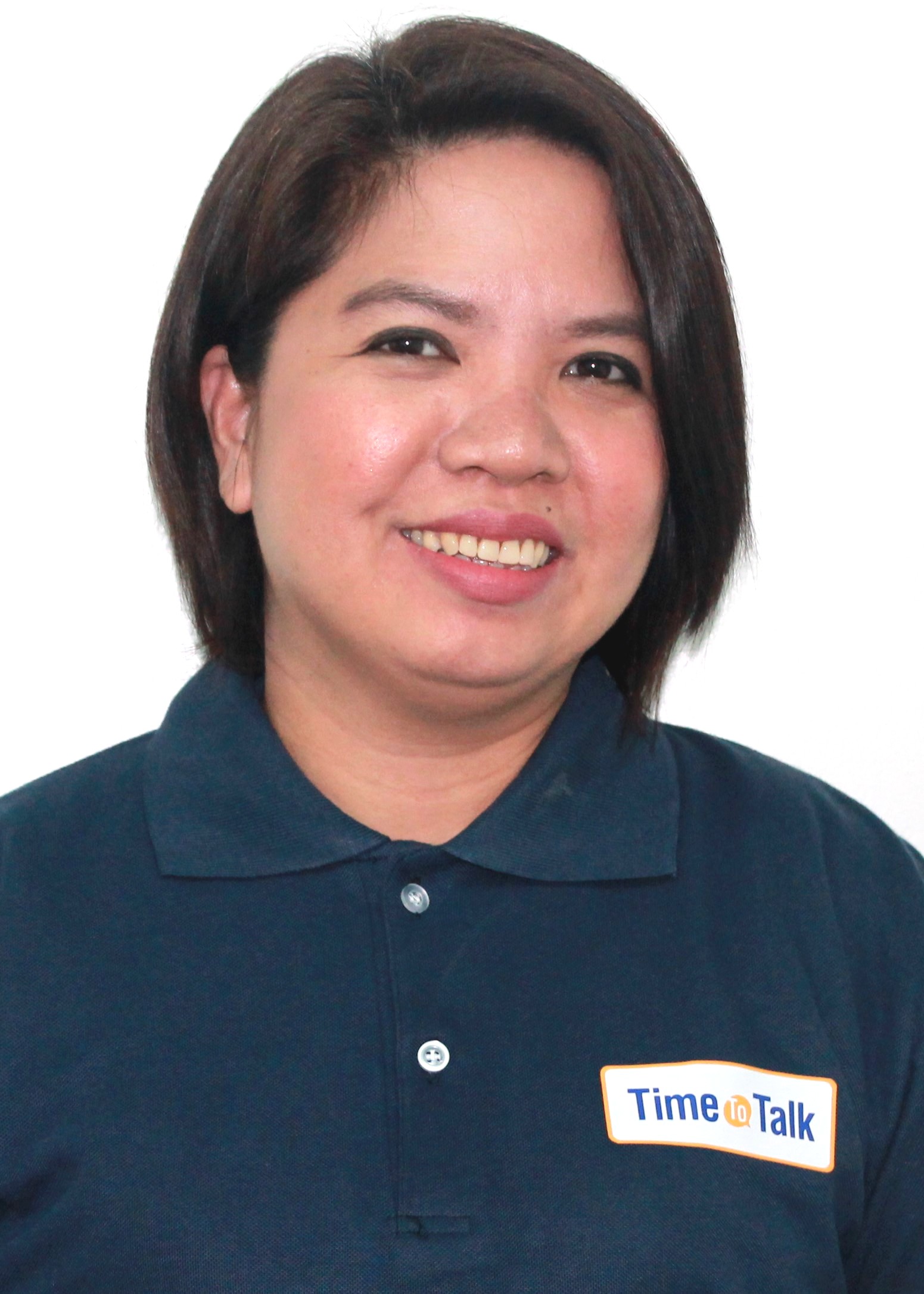 Interests
I enjoy going out with my husband and try out different restaurants. When I am at home, I find solace in listening to music and also reading books.
Background
I graduated Bachelor of Science in Commerce major in Business Administration. I worked in a telecommunication company for 12 years and that experience brought me knowledge and wisdom not just in conversational English but in matters about day to day work in an office set-up. I used to have a Travel Agency business too and that made me an able person to deal with people from all walks of life.
A place
I would love to visit
I would like to visit and experience the solemnity of The Vatican, the grandeur of Paris, the breathtaking waves in Maldives, and the interesting culture of Japan.
Message for students
Education knows no age.
日付
07/16
(火)
07/17
(水)
07/18
(木)
07/19
(金)
07/20
(土)
07/21
(日)
07/22
(月)
06:00
-
-
-
-
-
-
-
06:30
-
-
-
-
-
-
-
07:00
-
-
-
-
-
-
-
07:30
-
-
-
-
-
-
-
08:00
-
-
-
-
-
-
-
08:30
-
-
-
-
-
-
-
09:00
-
-
-
-
-
-
-
09:30
-
-
-
-
-
-
-
10:00
-
-
-
-
-
-
-
10:30
-
-
-
-
-
-
-
11:00
-
-
-
-
-
-
-
11:30
-
-
-
-
-
-
-
12:00
-
-
-
-
-
-
-
12:30
-
-
-
-
-
-
-
13:00
-
-
-
-
-
-
-
13:30
-
-
-
-
-
-
-
14:00
-
-
-
-
-
-
-
14:30
-
-
-
-
-
-
-
15:00
-
-
-
-
-
-
-
15:30
-
-
-
-
-
-
-
16:00
-
-
-
-
-
-
-
16:30
-
-
-
-
-
-
-
17:00
-
-
-
-
-
-
-
17:30
-
-
-
-
-
-
-
18:00
-
-
-
-
-
-
-
18:30
-
-
-
-
-
-
-
19:00
-
-
-
-
-
-
-
19:30
-
-
-
-
-
-
-
20:00
-
-
-
-
-
-
-
20:30
-
-
-
-
-
-
-
21:00
-
-
-
-
-
-
-
21:30
-
-
-
-
-
-
-
22:00
-
-
-
-
-
-
-
22:30
-
-
-
-
-
-
-
23:00
-
-
-
-
-
-
-
23:30
-
-
-
-
-
-
-
24:00
-
-
-
-
-
-
-
24:30
-
-
-
-
-
-
-