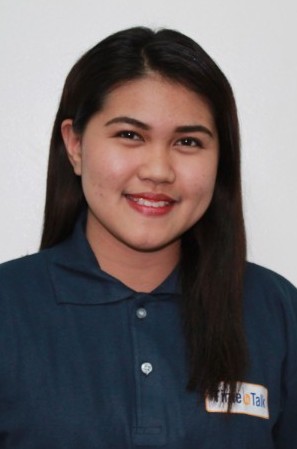 Interests
I love watching American series and movies. I also love hanging out with my friends and going to different places. I love capturing beautiful scenery. Also, I love singing Karaoke and I love The Carpenters.
Background
An alumna from Pampanga State Agricultural University with a degree in Development Communication. I have been working as an ESL Teacher to Japanese students.
A place
I would love to visit
I would love to experience Japan, Amsterdam, Paris, and Canada.
Message for students
" The only way to do great work is to love what you do. If you haven't found it yet, keep looking. Don't settle."
日付
07/16
(火)
07/17
(水)
07/18
(木)
07/19
(金)
07/20
(土)
07/21
(日)
07/22
(月)
06:00
-
-
-
-
-
-
-
06:30
-
-
-
-
-
-
-
07:00
-
-
-
-
-
-
-
07:30
-
-
-
-
-
-
-
08:00
-
-
-
-
-
-
-
08:30
-
-
-
-
-
-
-
09:00
-
-
-
-
-
-
-
09:30
-
-
-
-
-
-
-
10:00
-
-
-
-
-
-
-
10:30
-
-
-
-
-
-
-
11:00
-
-
-
-
-
-
-
11:30
-
-
-
-
-
-
-
12:00
-
-
-
-
-
-
-
12:30
-
-
-
-
-
-
-
13:00
-
-
-
-
-
-
-
13:30
-
-
-
-
-
-
-
14:00
-
-
-
-
-
-
-
14:30
-
-
-
-
-
-
-
15:00
-
-
-
-
-
-
-
15:30
-
-
-
-
-
-
-
16:00
-
-
-
-
-
-
-
16:30
-
-
-
-
-
-
-
17:00
-
-
-
-
-
-
-
17:30
-
-
-
-
-
-
-
18:00
-
-
-
-
-
-
-
18:30
-
-
-
-
-
-
-
19:00
-
-
-
-
-
-
-
19:30
-
-
-
-
-
-
-
20:00
-
-
-
-
-
-
Open
20:30
-
-
-
-
-
-
Open
21:00
Closed
Closed
-
-
-
-
Open
21:30
Closed
Open
-
-
-
-
Open
22:00
Closed
Closed
Open
-
-
-
Open
22:30
Closed
Open
Open
-
-
-
Open
23:00
Closed
Open
-
-
-
-
Open
23:30
Closed
Open
-
-
-
-
Open
24:00
Closed
Open
-
-
-
-
Open
24:30
Open
Open
-
-
-
-
Open