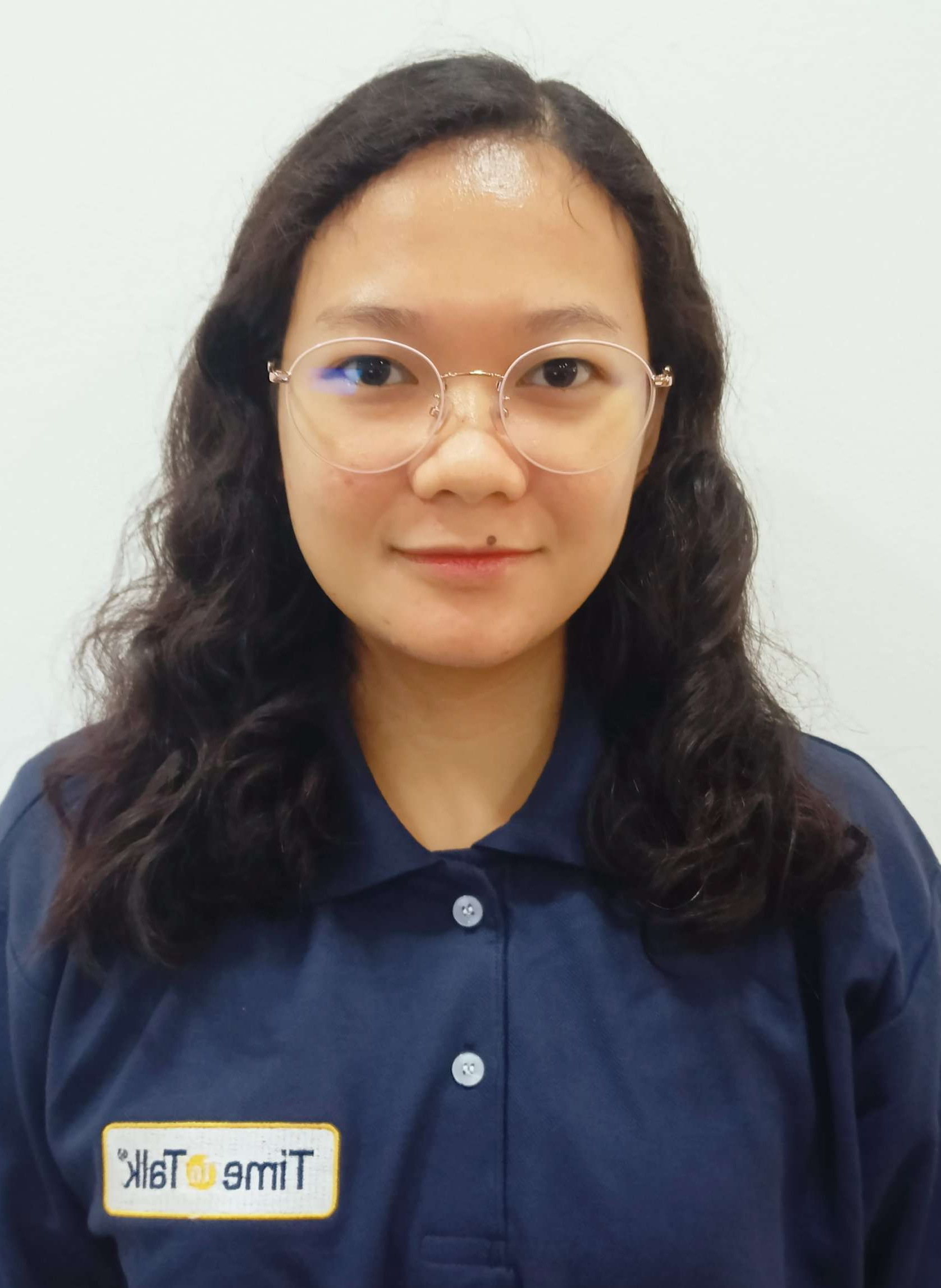 Interests
I love reading and I could spend the whole day reading books. I also like watching movies and my favorite one is Forrest Gump because I learned a lot from the movie. For example, life is full of surprises and it's okay if we are not sure about what will happen in the future.
Background
I have been teaching for 2 years.
A place
I would love to visit
Kyoto because I love history and I would like to experience and see the history of Japan.
Message for students
I'm excited to have sessions with you!
日付
06/04
(日)
06/05
(月)
06/06
(火)
06/07
(水)
06/08
(木)
06/09
(金)
06/10
(土)
06:00
-
-
-
-
-
-
-
06:30
-
-
-
-
-
-
-
07:00
-
-
-
-
-
-
-
07:30
-
-
-
-
-
-
-
08:00
-
-
-
-
-
-
-
08:30
-
-
-
-
-
-
-
09:00
-
-
-
-
-
-
-
09:30
-
-
-
-
-
-
-
10:00
-
-
-
-
-
-
-
10:30
-
-
-
-
-
-
-
11:00
-
-
-
-
-
-
-
11:30
-
-
-
-
-
-
-
12:00
-
-
-
-
-
-
-
12:30
-
-
-
-
-
-
-
13:00
-
-
-
-
-
-
-
13:30
-
-
-
-
-
-
-
14:00
-
-
-
-
-
-
-
14:30
-
-
-
-
-
-
-
15:00
-
-
-
-
-
-
-
15:30
-
-
-
-
-
-
-
16:00
-
-
-
-
-
-
-
16:30
-
-
-
-
-
-
-
17:00
-
-
-
-
-
-
-
17:30
-
-
-
-
-
-
-
18:00
-
-
-
-
-
-
-
18:30
-
-
-
-
-
-
-
19:00
-
-
-
-
-
-
-
19:30
-
-
-
-
-
-
-
20:00
-
-
-
-
-
-
-
20:30
-
-
-
-
-
-
-
21:00
-
-
-
-
-
-
-
21:30
-
-
-
-
-
-
-
22:00
-
-
-
-
-
-
-
22:30
-
-
-
-
-
-
-
23:00
-
-
-
-
-
-
-
23:30
-
-
-
-
-
-
-
24:00
-
-
-
-
-
-
-
24:30
-
-
-
-
-
-
-